Learn Spanish in the best climate in Europe
The Malagalingo study program is designed by PhD experts in Spanish who will boost your language management in real situations until you can speak Spanish once and for all.
With our conversational method, playful approach, small groups and an incentive team that will encourage you to dare to try it while having fun, you will finally be able to speak Spanish.
Malagalingo is distinguished by being the most welcoming, fun and family friendly school in the whole area.
Also, did you know that our school is next to the beach and that you can enjoy the view of the sea while you attend your class on our outdoor terrace?
In the middle of Costa del Sol, less than 1 hour from Malaga and Granada and 5 minutes from Nerja, but much less crowded, you can relax and enjoy its almost deserted beaches with crystal clear waters with the best climate in Europe while you learn Spanish and have fun with us.
Come learn Spanish in the Best Climate in Europe.
The Malagalingo school is on the beach of Torrox Costa, a charming little village very quiet and peaceful right next to the sea, in the heart of the Costa del Sol.
Torrox is on the Costa del Sol Oriental, province of Malaga, in the region of Andalusia, southeast of Spain and southern Europe.
Specifically we are in the Esperanto Avenue, Costa del Oro Urbanization, Shopping Center A, First Floor, Torrox Costa, Spain.
Torrox is 5 minutes from Nerja, less than an hour from Malaga and Granada and just over 1 hour from Marbella and the rest of the other points of the Costa del Sol.
Malaga airport is just 45 minutes away by car and communicates daily with the main European cities. In addition, at the same distance there is also the María Zambrano station where you can find high-speed trains that connect Malaga daily with all the main cities in the country.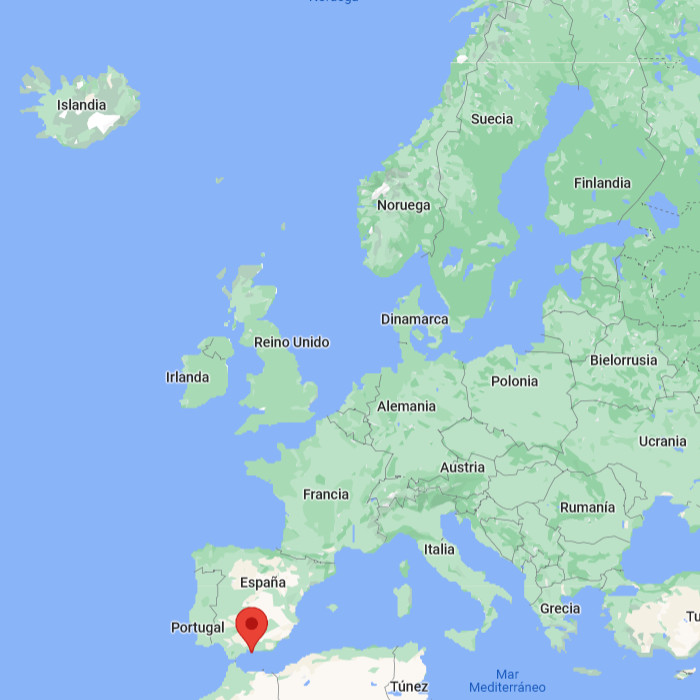 In Spanish: Avenida Esperanto, Urbanización Costa del Oro, Centro comercial A, Primera Planta, 29793, Torrox Costa, España.
We are just 2 minutes away from the main bus station in Torrox Costa, from where there are buses also going to Nerja, Málaga, Granada as well as to the surrounding villages. From Torrox Pueblo we can easily be reached with the urban bus line 1.
Our exact address is:
Avenida Esperanto, Urbanización Costa del Oro, Centro comercial A, Primera Planta, 29793, Torrox Costa, España.
Welcome to Malagalingo!
We are a young school which was founded in January of 2019 in Torrox, Málaga.
Since we are a recently opened business, Malagalingo wants to combine enthusiasm, dynamisme and innovation that caracterizes this young project, counting with over 30 years of teaching experience of the founders and the various teachers who derive from a wide range of teaching backgrounds.
Our teachers profiles are very diverse and broad, for example they count with degrees in Hispanic Philology from the University of Salamanca, doctoral degree and thesis in the area of General Linguistic from the University of Vigo, and teaching experiences in multiple areas of public and private education, such as the Spanish Courses for foreigners at the University of Santiago de Compostela and different official language academies in Spain for courses like Fundación Tripartita, European Social Fund and Inem, etc.
During the past years using a different focus and method of teaching languages lead us to the conviction, that the fun and enjoyable way of learning, and being in a relaxed environment gives without a doubt the best results.
That's why our classes are taught in a positive and diverse way, focusing on a playful approach. On a daily bases we are eager to share our personal experiences and feelings in order to, through the learning of our language, the student will get to know, understand and vividly live the Spanish culture.
Our school has an international inclination and we are characterized by being especially flexible with our students. One of our main objectives is to have a course that fits and meets all the needs and expectations of each of our students.
Therefore, we await you with open arms and we encourage you to join us in the Best Climate in Europe.
Our teachers are dynamic, fun and enthusiastic, always giving their best every day and in every class, so you can feel at home and learn while you are having fun.
Our teachers education
licensed graduate or master

extensive teaching experience

extroverted and positive attitude